The Médi Group business partners share our commitment to providing the highest quality products and services to our e·silentpartner customers.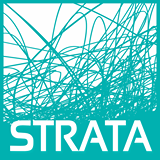 STRATA
e·silentpartner integrates completely and seamlessly with STRATA® media buying system, allowing you to easily import broadcast and print orders and invoices from the STRATA media buying system into e·silentpartner.
About STRATA:
Strata Marketing, Inc. (STRATA) delivers a superior product by committing enormous resources to build and maintain media software that meets your needs. Since our beginning in 1984, we at STRATA have prided ourselves on our ability to deliver custom solutions for media professionals. For nearly a quarter of a century STRATA's innovative products have set the standard in the media industry.
To learn more about STRATA, please visit their website www.gotostrata.com
TIBCO Jaspersoft
In addition to customized dashboards, widgets, and robust built-in standard reports, e·silentpartner further extends your customized reporting and analytic needs with embedded business intelligence (BI) and reporting software from TIBCO Jaspersoft®.
About TIBCO Jaspersoft:
Jaspersoft empowers people every day to make better decisions faster by bringing them timely, actionable data inside their apps and business processes. Its embeddable, cost-effective reporting and analytics platform allows anyone to quickly self-serve to get the answers they need, while scaling architecturally and economically to reach everyone. Thanks to a community that is hundreds-of-thousands strong, Jaspersoft's commercial and open source software has been downloaded millions of times and is used to create the Intelligence Inside apps and business processes. For more information, visit www.jaspersoft.com and http://community.jaspersoft.com.
Oracle
The Médi Group is a certified Oracle® Partner and offers Oracle Database 12c for new levels of efficiency, performance, security, and availability in the cloud.
About Oracle:
Oracle offers a comprehensive and fully integrated stack of cloud applications and platform services. For more information about Oracle (NYSE:ORCL), visit www.oracle.com.